If you have lost one tooth and want a permanent, sturdy solution, a single tooth implant is ideal.
Titanium is used by dentists as this metal bonds extremely well with the jawbone – meaning the implant becomes fully incorporated into the mouth's system.
This means that your single tooth implant will be firmly held in place so you don't have to worry about it slipping out of place or coming loose. A single tooth implant can be used anywhere in the mouth and will be created to colour match your natural teeth.
Treatment 
Before you start dental implant treatment, we need to ensure your jawbone is of good quality and will hold the titanium screw. We may need to take x-rays or refer you for a CT scan.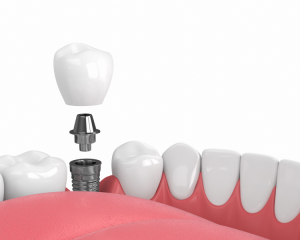 It may take a while for the screw to become fully embedded into the jaw, so you will be fitted with a temporary false tooth while you heal. Once this has happened, we will attach your permanent replacement tooth.
To book your appointment, please click here or call 020 7229 1730 for more information.