Many patients want straighter teeth but would prefer not to have a fixed brace, making Invisalign the perfect alternative in Notting Hill.
Invisalign aligners are transparent and can be taken out at those all-important meetings or social events.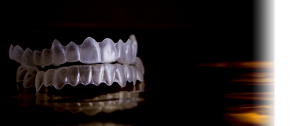 Treatment
When you attend for an orthodontic consultation, we will first discuss which is the best teeth straightening treatment for your individual case. Once we have established what that is we will perform a thorough examination of your teeth, taking x-rays and impressions for our laboratory to create your customised Invisalign clear aligners. Where patients suffer from overcrowding, we may need to extract one or more teeth so that your natural teeth can move into the correct position.
We will then move on to creating your first set of individual Invisalign aligners. Thereon, every two weeks you will need to visit Westbourne Grove Dental so we can check the alignment of your teeth and provide you with a new set of aligners. Each aligner is created to adjust the positioning of your teeth and encourage movement. Once treatment has been completed, you will be provided with a retainer to maintain your new smile.
To book your orthodontic appointment, please click here or call 020 7229 1730 for more information.