A dental bridge replaces one or more missing teeth in the mouth. It is natural in appearance, long lasting and functions just like your other teeth.
Patients who have lost one or more teeth often want to restore their smile as quickly and as painlessly as possible and a dental bridge is a simple, yet effective solution. At Westbourne Grove Dental, we offer our patients dental bridges made of porcelain, gold or alloy. Porcelain is often the most popular choice as it is tooth-coloured and blends into the mouth.
Treatment
The treatment process will take place over two appointments. Your dentist will advise if a dental bridge is the right option for you and if so, will show you how to care for the dental restoration once it is in place. If you require a bridge, the teeth adjacent to the gap will need to be prepared and fitted with crowns to support the bridge. For example, if you are having a traditional dental bridge fitted, the crowns act as anchors, holding the bridge in place. If the dentist uses a cantilever bridge, only one  adjacent tooth will be required to support the restoration.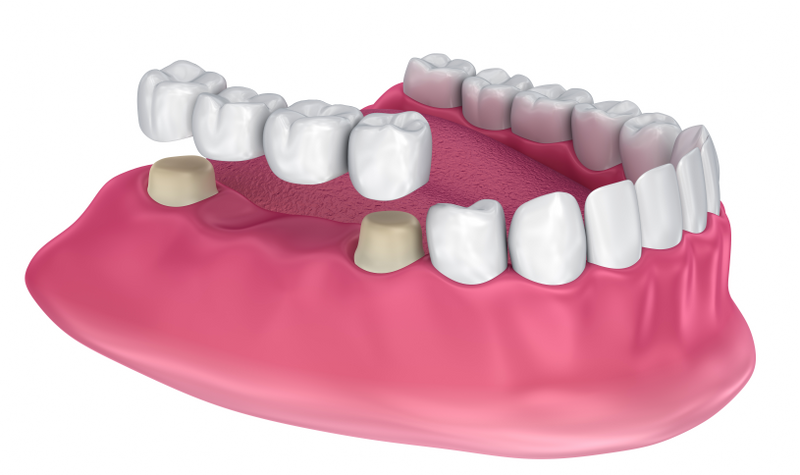 Questions & Answers
Will people be able to see my bridge? If you choose the porcelain option, it will not be noticeable. However metallic bridges are more visible and are often used at the back of the mouth.
How long will my bridge last? A dental bridge can last a lifetime if cared for properly. We will show you how to look after your dental restoration once treatment has been completed. Bridges are strong and stable replacements for missing teeth.
Will the treatment hurt? While you might feel slightly uncomfortable during treatment, we will use a local anaesthetic to ensure you do not experience any pain.
To book your appointment, please click here or call 020 7229 1730 for more information.