A dental implant is a permanent, natural looking replacement for missing teeth.
Dental Implants can be used to replace a single tooth or multiple missing teeth, giving patients the confidence to smile openly and restoring the function of their teeth. An implant is formed of two components: a titanium screw, which is implanted into the jaw bone, and a prosthetic or false tooth, which is then placed on top of the screw. The titanium screw acts like the false tooth's new root. The false tooth is created to look and feel completely natural. Both elements become incorporated into the mouth to help you eat and chew naturally and to restore your facial shape (especially if you have lost multiple teeth). At Westbourne Grove Dental, we can help replace your missing teeth with this advanced dental technology.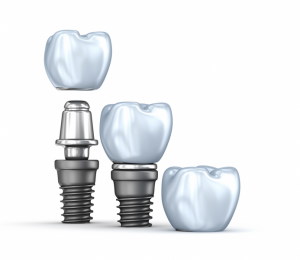 Dental Implants Treatment 
Before you start dental implant treatment, we need to ensure your jawbone is of good quality and will hold the titanium screw. We may need to take x-rays or refer you for a CT scan. If you are suitable for an implant, we will take impressions of your teeth to create the right size and shaped prosthetic tooth or teeth.
An incision will be made in your gum at the site of the gap and the titanium screw will be embedded into your jawbone. You may need a stitch to ensure the wound heals properly. It may take a while for the screw to become fully fixed into the jaw, so you will be fitted with a temporary false tooth while you heal. Once this has happened, we will attach your permanent replacement tooth.
Questions & Answers 
How long do dental implants last for?
Implants can last for a lifetime, just like your natural teeth should. You will need to care for them properly and maintain a good oral care routine.
Why should I have an implant and not a dental bridge?
The dentist will advise on what treatment best fits your individual case. Often implants are preferred over bridgework as no preparatory work is required to the surrounding teeth.
How soon after I lose a tooth should I get an implant?
To prevent any bone atrophy, it is recommended you start the implant procedure as soon as you lose your natural tooth. If a natural tooth has to be extracted we can incorporate this into your individual treatment plan.
To book your appointment, please click here or call 020 7229 1730 for more information.