Ceramic braces utilise the same technology as traditional metallic braces but have been designed to be subtler and less obvious than the typical bracket and elastic band.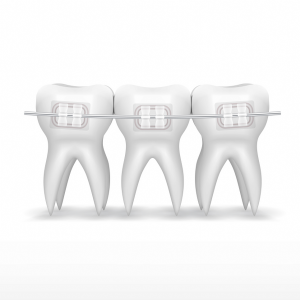 So, while the orthodontic treatment is not invisible, it is less noticeable than the traditional appliance and is popular with patients of all ages. Treatment time varies depending on each patient and their orthodontic needs, however, ceramic braces create long lasting results and are highly effective.
Treatment
When you attend for an orthodontic consultation, we will first discuss which is the best teeth straightening treatment for your individual case. Once we have established what that is we will perform a thorough examination of your teeth, taking x-rays and impressions for our laboratory to create your brace.
Where patients suffer from overcrowding, we may need to extract one or more teeth so that your natural teeth can move into the correct position. We will then move on to fixing your brace into place.
Ceramic braces treat all manner of orthodontic issues and the elastic band that is placed around the bracket can be swapped for metallic clips to reduce visibility. Once your fixed brace has moved your teeth into the desired position, you will be provided with a retainer to maintain your new smile
To book your orthodontic appointment, please click here or call 020 7229 1730 for more information.