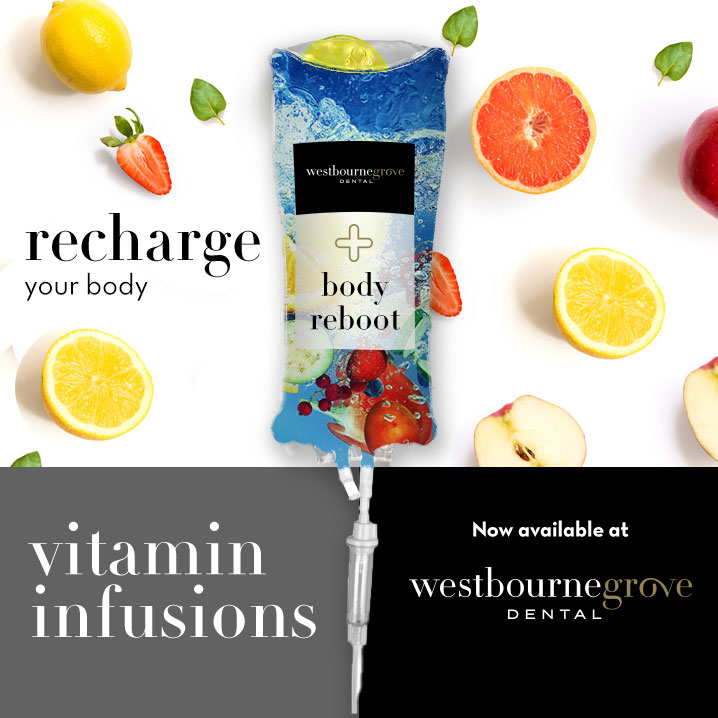 The body is only capable of absorbing 20% of oral supplements due to a breakdown in the gut, while our intravenous vitamin infusions ensure that you absorb 100% of the vitamins, minerals and amino acids as they are delivered straight into your bloodstream.
Boost the immune system, kick-start weight loss efforts, or encourage radiant skin and healthy hair, with a range of options to restore vitality.
Appointments typically take 75 minutes, with no downtime or recovery. Courses of six intravenous infusions or more can be booked at a preferential rate.
Please note that a 10-minute consultation with Dr Sonia Ali is required before your first infusion to discuss your medical history, current health and determine the most beneficial infusion for you. £50 will be added to your first infusion.
Base
Help restore your energy levels and maximise antioxidant function with this detoxifying infusion. It is made up of magnesium and calcium which work together to reduce stress and aim to improve energy levels.
£225
Diet and Detox
Our detox infusion contains electrolytes, vitamins and minerals. It aims to kick start your metabolism, helping you begin your diet feeling fresh and energised.
£299
Fat Burning and Detox
This intravenous drip reduces fatigue and improves overall vitality. Designed to burn stubborn body fat and detoxify your body it will help kick start any detox and weight loss regime. Bursting with essential amino acids and glutathione to aid healthy weight loss and detoxification it will help you to reach peak mental and physical function.
£299
Notting Hill Anti-Ageing
This infusion is specially formulated with high dose glutathione and the perfect mixture of nutrients to to help even skin tone, target ageing, and leave you glowing.
£299
Notting Hill Energy Boost
Our energy boost is charged with B Vitamins, magnesium and amino acids to help you feel energised and detoxified.
£299
Notting Hill Immune Support
If you're feeling run down then this is the infusion for you. The replenishing vitamins help support your immune system, decrease oxidative stress and protect against free radical damage – giving you the boost you need.
£299
Notting Hill Ultimate Endurance
Specifically designed for those who lead a sporty lifestyle, this infusion is bursting with B Vitamins and powerful amino acids to help keep your energy levels up throughout your training.
£299
Athletic/Sport Support
Powering your performance
Packed with energy boosting B vitamins, this intravenous infusion helps provide you with sustainable energy pre and post work out. It contains magnesium which is the 4th most abundant essential mineral in the body. It aids recovery and supports bone metabolism, while playing a significant role in glucose and insulin metabolism. Taurine can also increase total fat oxidation, improving fat burning.
£299
Mood Support
The perfect drip for overall wellbeing with a formula designed to reduce stress, depression and anxiety, while balancing the mind and improving overall mood. This drip is designed to directly affect your mood and lift your energy and treat fatigue, depression and PMS. It contains high doses of glutamine; carnitine and ornithine which have a positive impact on concentration and help you to achieve a deep restorative sleep.
£299
Relax and Unwind
Perfect if you're looking to find balance between mind and body, this infusion works to decrease your stress levels and improve your quality of sleep.
£299
Skin Bright
With Glutathione and a high dose of Vitamin C to help brighten your skin, this infusion reduces the overproduction of melanin thus decreasing pigmentation, lightening and brightening the complexion.
Only available as a course of 6: £POA
Hair Restoration
This infusion helps restore hair loss and maximise hair growth. It uses a powerful blend of amino acids which are vital for healthy hair.
£299
Glutathione Injection
The most important molecule you need to stay healthy, expect clearer skin, anti-ageing benefits and energy.
Glutathione is primarily responsible for reducing the levels of cysteine on the surface of proteins and helps protect your body from free-radical damage. Glutathione also helps synthesise and repair DNA and facilitates the recycling of vitamins C and E. It plays a vital role in purging your body of toxic compounds such as heavy metals and by supporting detoxification, glutathione helps reduce your risk of developing cancer. Glutathione is able to fight cancer by causing malignant cells to die while keeping healthy cells alive.
Course of 3 : £POA
To book your appointment, please click here or call 020 7229 1730 for more information.